In 2019, Mercedes-Benz sales worldwide increased by 1.3% to a record 2,339,562 cars. Global sales or Smart were down 9.5%.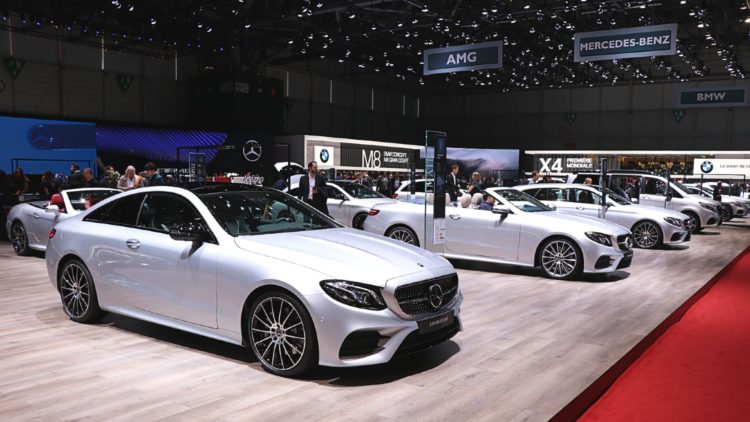 2019 was the ninth consecutive record year for Mercedes-Benz, with growth of 1.3% to a total of 2,339,562 cars delivered worldwide. At the same time, Mercedes-Benz maintained its leading position among the luxury car brands for the fourth year in a row. In 2019, Mercedes-Benz sales grew in all three of its main markets – China, Germany and the USA. China, Mercedes-Benz's largest market, remained the main growth driver, with sales of 693,443 units representing an increase of 6.2% and a new record year. Last year's model offensive with a total of more than ten new or revised models led to a significant boost in unit sales, particularly of Compact Cars and SUVs, and contributed to the overall sales growth. 
Mercedes-Benz and Smart Sales Worldwide in 2019
Mercedes-Benz reported the following worldwide deliveries for the Mercedes-Benz and Smart brands in 2019:
| | | |
| --- | --- | --- |
| | Sales in 2019 | Change in % |
| Mercedes-Benz | 2,339,562 | +1.3 |
| smart | 116,781 | -9.3 |
| Mercedes-Benz Cars | 2,456,343 | +0.7 |
Mercedes-Benz branded car deliveries increased by 1.3% in 2019 to a new record 2,339,562 cars. 2019 was the ninth consecutive record sales year for Mercedes-Benz.
Smart sales worldwide were 9% lower but at record levels in several European countries. Electric Smart sales were at a record 18,400 cars worldwide in 2019. Smart is going electric-only from 2020 with new range expected in around two years time following a joint-venture agreement with the Chinese carmaker Geely.
Mercedes-Benz Sales by Region / Country in 2019
Mercedes-Benz branded car sales were as following in major markets in 2019:
| | | |
| --- | --- | --- |
| | Sales 2019 | % Change |
| Europe | 937,881 | +0.4 |
| – thereof Germany | 318,353 | +4.8 |
| Asia/Pacific | 977,922 | +3.7 |
| – thereof China | 693,443 | +6.2 |
| NAFTA | 372,144 | -1.6 |
| – thereof USA | 316,094 | +0.0 |
Mercedes-Benz's five largest markets last year were China, Germany and the USA followed by Great Britain and South Korea. Mercedes-Benz finished the year with the highest annual unit sales in its history, as well as its best quarter ever (614,319 units, +3.2%). In the fourth quarter of 2019, Mercedes-Benz sold for the first time more than 600,000 cars within a quarter.
In full-year 2019, Mercedes-Benz maintained its market leadership in the luxury segment in markets including Germany, Great Britain, France, Spain, Belgium, Switzerland, Poland, Portugal, South Korea, Japan, Australia, Thailand, Vietnam, Singapore, Canada and South Africa. 
Mercedes-Benz Sales by Region and Market in 2019
Mercedes-Benz Sales in Asia-Pacific and China in 2019
In the Asia-Pacific sales region, a new record was achieved in 2019 with 977,922 units sold (+3.7%).
China has been Mercedes-Benz's largest sales market since 2015, with total annual unit sales almost doubling between 2015 and 2019. A total of 693,443 cars were handed over to customers in China, an increase of more than 40,000 units compared with 2018 and a new record (+6.2%). More than three-quarters of Mercedes-Benz vehicles sold in China came directly from local production last year.
In South Korea, the second-largest market in the Asia-Pacific region, deliveries reached a new record high of 78,048 vehicles in 2019 (+8.7%). Sales also reached a new high in Vietnam. Mercedes-Benz remained the largest foreign car brand in Japan in 2019.
Mercedes-Benz Sales in Europe and Germany in 2019
In the Europe region, a total of 937,881 cars with the three-pointed star were delivered to customers in 2019 – slightly above the high prior-year level (+0.4%).
In Germany, Mercedes-Benz was able to surpass the previous year's figure by more than 14,000 units due to sales growth of compact cars and SUVs, delivering 318,353 vehicles in the full year (+4.8%). This was the highest sales volume in Germany in the past ten years.
In addition to Germany, Great Britain and France followed by Italy and Spain, are among the largest sales markets in the European region. In 2019, Mercedes-Benz set new sales records in countries including Switzerland, Poland, Denmark, and Hungary. 
Mercedes-Benz Sales in North America and USA in 2019
In the NAFTA region, 372,144 new Mercedes-Benz vehicles were delivered to customers between January and December (-1.64%).
Despite a challenging market situation, 316,094 vehicles in the USA were sold and the high prior-year level surpassed by 135 units (+0.0%). In the second half of the year, Mercedes-Benz increased its deliveries in the USA in five out of six months. In Canada, Mercedes-Benz maintains its position as the top luxury car brand for the sixth consecutive year. 
Mercedes-Benz Worldwide Sales by Model in 2019
Mercedes-Benz SUV Sales Worldwide in 2019
In 2019, every third Mercedes-Benz vehicle sold globally was an SUV. With sales of about 783,700 units the GLA, GLB, GLC, GLC Coupé, EQC, GLE, GLE Coupé, GLS and G-Class, the SUVs were Mercedes-Benz's strongest-selling segment in 2019 (-4.5%).
Since August 2019, deliveries have increased every month, driven by the new GLC and GLE. The GLC was once again the best-selling Mercedes-Benz SUV in 2019. In 2019, the G-Class was able to improve on its record sales of 2017 by more than 13,000 units: 34,912 delivered vehicles resulted in a strong sales increase of more than 60%. The previous sales record set in 2017 was already surpassed in August 2019. 
Record Mercedes-Benz Compact Cars Sales in 2019 
In 2019, every fourth Mercedes-Benz sold was a Compact Car: More than 667,000 units of the A- and B-Class, CLA, CLA Shooting Brake, GLA and GLB were delivered last year (+9.5%). This represents an increase of more than 30,000 unit sales when compared to the prior record established in 2016.
The new A-Class posted global growth of 12.3% in 2019. The A-Class Saloon and the new B-Class worldwide as well as the new CLA Coupé in Europe made significant contributions to the segment's growth. With the GLB, which launched in December 2019, the Mercedes-Benz Compact Car family now consists of eight models. With its market launch this year, the new GLA completes the model changes for the current generation of Compact Cars from Mercedes-Benz. 
Mercedes-Benz C-Class Deliveries in 2019
Approximately 392,900 units of the C-Class Saloon and Estate were delivered in 2019 (-0.9 %). The C-Class Saloon achieved growth particularly in the Asia-Pacific region and a new record (+8.5%). In South Korean, deliveries of the C-Class Saloon grew by a double-digit rate. Sales of the long-wheelbase version of the model in China increased by 9% last year to a new record level.
Since its market launch in 1982, then still under the name Mercedes-Benz 190, more than ten million C-Class Saloon and Estate cars have been sold worldwide. 
Record Mercedes-Benz E-Class Sales in Asia-Pacific in 2019 
More than 351,000 units of the E-Class Saloon and Estate were delivered to customers in the third full year of sales of the new generation (-1.3 %).
The importance of China as the most important market for the Mercedes-Benz saloon models is clearly reflected by the E-Class: The long-wheelbase version of the E-Class Saloon set a new sales record with double-digit growth. Every second E-Class Saloon sold worldwide in 2019 was delivered as a long-wheelbase version in China.
In South Korea, the E-Class Saloon achieved its highest annual sales so far. And the E-Class Estate recorded an increase of 5.0% in deliveries in Germany. 
Mercedes-Benz S-Class: World's Best-Selling Luxury Saloon in 2019
The Mercedes-Benz S-Class Saloon was the best-selling luxury saloon in the world in 2019. Six years after the launch of the current generation of the S-Class Saloon, sales of about 71,700 units in 2019 remained at a very high level (-8.0%). Deliveries increased above all in China.
The Mercedes-Maybach S-Class Saloon set a new sales record in 2019, driven in particular by its success in China and double-digit growth in that market. Since the market launch in 2015, approximately 500 of these exclusive luxury automobiles have been delivered every month to customers in China alone. In 2019, deliveries increased to more than 700 units per month. The portfolio of the Mercedes-Maybach brand will be expanded this year to include the Mercedes-Maybach GLS.
Mercedes-Benz Coupe and Cabriolet Sales in 2019
At Mercedes-Benz, all roadsters, convertibles and coupés are grouped under the heading Dream Cars. More than 163,600 of these vehicles were delivered worldwide in 2019 (-1,1%).
The main markets of the Mercedes-Benz roadsters, convertibles and coupés were the USA, and Germany, followed by Great Britain in 2019. The best-selling members of the Dream Car family last year were the C-Class Coupé, followed by the CLS Coupé. The CLS Coupé was the growth driver for the Dream Cars in 2019 and achieved strong double-digit sales growth worldwide. Especially in South Korea the sales volume of the four-door Coupé doubled. 
IncreasedSsales of V-Class and X-Class in 2019 
With an increase of 1.2% to about 63,500 units delivered in 2019, the V-Class achieved a new sales record. The revised version of the multipurpose vehicle had its world premiere in January 2019. Demand for the V-Class was particularly strong last year from customers in Germany, where the largest absolute growth and a new sales record were achieved. Further V-Class records were set in Great Britain, Russia and Switzerland. Sales increased also in China, the most important market for the V-Class outside Europe, almost on the high level of the previous year.
Approximately 15,300 units of the X-Class were sold worldwide in 2019. The largest markets for the pickup were Germany, Great Britain, Australia and South Africa; double-digit growth and record unit sales were achieved in each of those countries. 
Record Mercedes-AMG Sales in 2019 
The high-performance and sports-car brand Mercedes-AMG achieved a new record year in 2019 with 132,136 units sold and double-digit growth of 11.8%. The Affalterbach-based company achieved its highest sales figures in history also in Great Britain and Japan.
Mercedes-AMG's largest markets in 2019 were the USA, Germany and Great Britain, followed by China and Japan. The past year at Mercedes-AMG was marked by the continuous expansion and renewal of the product portfolio. Hence, also the successful Mercedes-AMG GT family received a facelift of the two-door variant and the Mercedes-AMG GT4-door Coupé was available in all markets for the first time.
With 13 derivatives in the Compact Car segment at various performance levels, Mercedes-AMG expands its range to include attractive entry-level models in the world of driving performance.
Smart Sales Worldwide in 2019 
In 2019, sales of the smart fortwo or smart forfour contracted by -9.3% to 116,781 cars. Sales of the smart brand in 2019 were influenced by lifecycle factors.
At the 2019 Frankfurt Motor Show, smart presented its completely revised fortwo and forfour models. Progressive design meets intelligent connectivity as well as zero local emissions due to battery electric powertrains.
In the conversion year to the purely electric smart models, the highest unit sales of the past 14 years were achieved in Germany. From January to December, more than 46,506 of the urban microcars were delivered in Germany (+13.2%). In both France and Italy, growth was achieved compared with the previous year. And full-year deliveries climbed to a new record in Portugal (+25.0%). Never before in a year have so many of the electric smart models been sold worldwide as in 2019 – more than 18,400 units were delivered last year. In Germany, approximately every sixth smart vehicle sold was purely electric.
At the end of March 2019, Daimler AG and the Zhejiang Geely Holding Group announced the establishment of a globally oriented 50:50 joint venture to transform smart into a leading player in premium-and intelligent electrified vehicles. The joint venture will produce a completely new generation of smart electric models in China and will be responsible for the international distribution.
Mercedes-Benz Plug-in Hybrids and All-Electric Models 
With its "Ambition 2039" announced last year, Mercedes-Benz Cars has set itself the goal of achieving a CO2-neutral fleet of new passenger cars within a period of 20 years. For Europe, the company assumes that well over 40 percent of Mercedes-Benz vehicles could already be delivered to customers as xEVs (plug-in hybrids and all-electric vehicles) by 2025. And by 2030, the company aims to achieve more than half of worldwide car sales with plug-in hybrids or all-electric vehicles.
Mercedes-Benz Cars expects all-electric models to account for 15% to 25% of total unit sales by 2025. The first fully electric SUV from Mercedes-Benz, the EQC, made its retail debut in Europe first followed by China and Asia-Pacific markets in 2019.
As the next member of the Mercedes EQ family, this year, the EQV will be the first electrically powered luxury multipurpose vehicle from Mercedes-Benz to combine emission-free mobility with convincing performance, high functionality and aesthetic design.
Moreover, the facelift of the current purely electric drive smart generation can already be ordered and market launch is planned for the end of January 2020. With this step, smart will complete its full changeover to zero local emissions due to battery-electric powertrains as a pioneer of urban mobility. 
By the end of 2020, a total of five fully electric models and more than 20 model variants of plug-in hybrid models will be an integral part of the global product portfolio of Mercedes-Benz Cars.
Global Worldwide Car Sales by Brand in 2019 (Full Year)